This is a sponsored post and everything mentioned herein are all an honest opinion of the author.
Being a first-time and breastfeeding mom as well as a doctor-on-call for a 30-hour duty or more, I need to make sure that the breastmilk I have for my little man is sufficient when I am out home. I always leave 3-4 bottles of self-pumped breastmilk before I leave. And I also make sure that after my duty, I have in me my breastmilk for him. For me to efficiently pump enough breastmilk for my son, I need to make sure that my handheld mini electric breast pump is always on the go — that it won't run out of battery.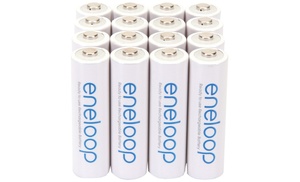 I actually got 2 pairs of rechargeable eneloop batteries. But these are for my DSL camera and not for the breast pump. However, it is just so lucky to me that despite my hectic schedule, I sure can shop for more batteries as Groupon Goods are always available online and anytime.
Groupon Goods, actually, offers a lot of exciting freebies for every shopper. It even has coupon codes available and can be used upon check-out, giveaways which every shopper can join and have the chance of winning. And of course, they have clearance sale offered at a discounted price.