Whaaaaaat? Too bad to know that I gained 2 kilograms or 4.4 lbs. (pounds) after my two-consecutive- week stay in Dumaguete City with my old friend, Aicy.
Just because I did nothing in Dumaguete City but only photographing, hopping from place to another, feeling the heat of the Summer sunshine, voracious eats and of course, sleeping. Yes! These are just what I did — obviously, a very sedentary life I had. And I could not blame any other things why I gained this much weight but only those mentioned above.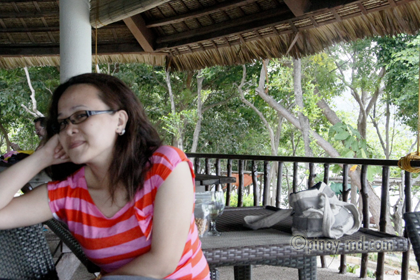 Take a look at my big flat arms, eeew!
The image above was taken in Bluewater Sumilon, during our day-tour on April 30, 2012.
Could you believe, I was the last one to finish eating from the buffet lunch served to us. And at around 3:00 in the afternoon, before we headed back home, I still ordered prawns with rice for myself and a dessert. Whew! That was really a gluttonous day for me. And oh, I almost forgot, I also had a slice of mouth-watering Brazo-de-Mercedes before our lunch. Waaah!! Who then won't gain weight?
I guess, for now, before our classes start next week, I need to lose weight by doing my treadmill workouts again. Yes, though 2 kilograms is yet not too much but still I need to get rid of these. I am almost nearing to a sack of rice. Waaah! One more kilogram and so I'm like a sack of rice anymore. Grrrrrrrrrr!
By the way, a sack of rice weighs 50 kilograms. My usual and normal weight is only 47 kilograms. And now, I am 49 kilograms already.