Happy and Healthy Tuesday everyone!
I will be sharing to you some of the Bisaya words here as I have been doing in my personal blog. This is part of the weekly exciting meme around Bisdak Bloggers, the Hulagway sa Kinabuhi (Life's Expressions).This week is our third successful week. We're done with A and B, and so we have K for today as Kandila (candle) and Karabaw (Carabao). My third entry is KORONA or Crown.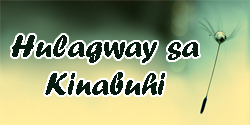 Korona is Crown
Hope you enjoy learning our native language or dialect.

Thank You FIRST COMMENTER!
January